Experience the Thrill of Buffalo and Bison Hunting in California
At Oak Ridge Outfitters, our buffalo herd makes it home amongst the rolling hills east of Coalinga, CA, with thousands of acres of land to roam. You get the excitement of a spot and stalk hunt with a massive prize at the end.
Whether you are looking to hunt a buffalo with your rifle, or sneak up on one with your archery equipment, our guides have you covered. You'll get up close and personal with this incredible animal, and experience a hint of the old west and hunts from days gone by in the process.
Our herd includes young cows, mature cows, and bull buffalo. While the size and live weight vary by season, you can choose the type and size of animal you want to hunt. Prized for their healthy, lean meat, average yields are 25-35% of the live weight (may vary slightly).
Hunts are available year-round and don't require a California hunting license or tag.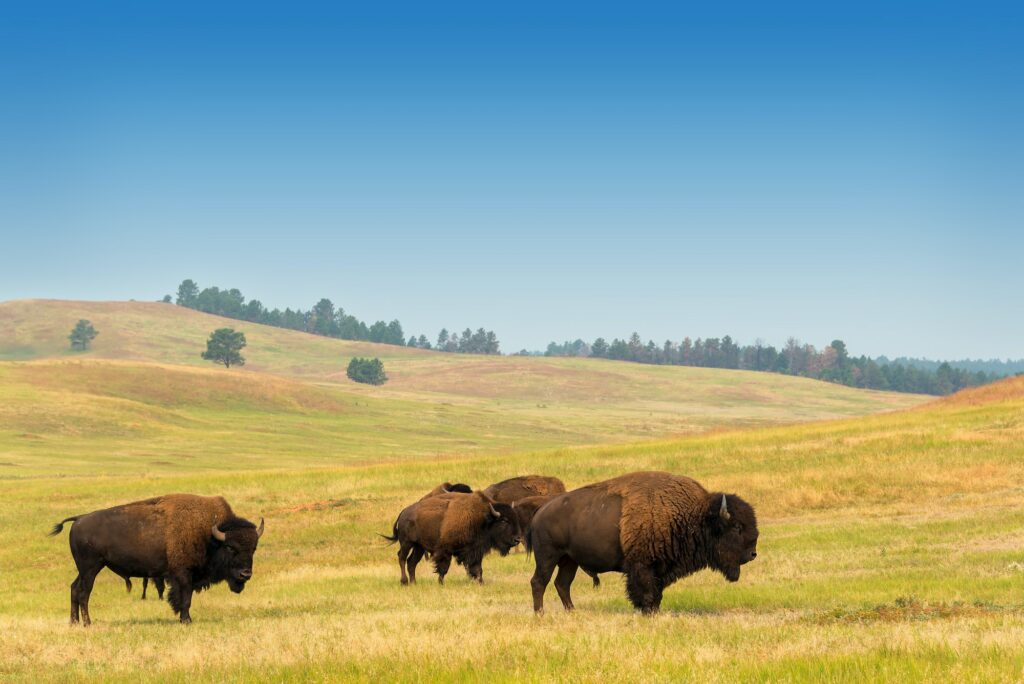 1 night of Lodging (see Lodging for details)
Guided hunting
Spot and stalk hunt style
Transportation while in the field
Opportunity to harvest 1 buffalo per package
$5,000 for a 1,000-1,200 lb Cow Buffalo
$6,000 for a 1,000-1,200 lb Bull Buffalo
$9,500 for a 1,900-2,000 lb Trophy Bull Buffalo
First non-hunting guest is free
What's Included on Your
Buffalo Hunt
1 Buffalo
Field Dressing

Drinks and snacks in the field

Access to the walk-in freezer for on-site storage during the hunt
Access to the BBQ and Blackstone Grill for preparing your meals
What to Bring on Your
Buffalo Hunt
Warm, comfortable clothes
Good hiking boots
Binoculars
No Tag or License required
Rifle or archery equipment
Lead free ammunition
Meals not included – bring food for your Breakfast, Lunch, and Dinners
Ice chest to pack your meat home
Ready to book the hunt of a lifetime?
Contact Us
Reach out to let us know what you are wanting to hunt and when
Book a Hunt
Get your hunt scheduled and start planning and dreaming of the hunt
Take the Shot
Enjoy the thrill of the hunt as you stalk and take the animal of your choice
Fill Your Freezer
Remember the hunt every time you open the freezer to grab meat